HELP AUDIENCES GET CLOSER TO THE ART
Donations can be made with the form below or by mailing a check to 700 12th Street NW, Suite 700, Washington DC, 20005.
HELP AUDIENCES GET CLOSER TO THE ART
There are multiple ways to donate. Pick the best option for you.
Check donations can be made by mailing checks to 700 12th Street NW, Suite 700, Washington DC, 20005.
2020-21 SEASON SUPPORTER
LEVELS AND BENEFITS
Up to $99 Donors
$100- $249 Members Circle
Two passes to an open virtual rehearsal and reception with the artists
Admission to our Great Works Ballet Club programs
$250- $499 Contributors Circle
Members Circle benefits plus
Listing in season program
$500-$999 Supporters Circle
Contributors Circle benefits plus
Invitation for two to a private concert and reception with our string quartet
$1,000-$2,499 Patrons Circle
Supporters Circle benefits plus
Invitation to a private rehearsal with our string quartet
Invitation to dress rehearsal at the theater
Acknowledgement of your patronage with prominent listing in season program
$2,500-$4,999 Sponsors Circle
Patrons Circle benefits plus
Two passes to an evening with the Artistic Director discussing the history of ballet
$5,000 Leadership Circle
Sponsors Circle benefits plus
Opportunity to sponsor a dancer or musician and attend private lunch or dinner with them
Signed photograph and letter from an artist
Invitation for two to a private reception with the artists
Prominent season program and website acknowledgements
$10,000-$19,999 Artists Circle
Leadership Circle benefits plus
Program title page acknowledgement for season
$20,000 Artistic Directors Circle
Artists Circle benefits plus
Benefits tailored to individual interests
Chamber Dance Project is a 501 (c) 3 not-for-profit organization. All donations are tax-deductible to the full extent of the law and most appreciated. Federal Tax ID 13-4109515
New Charitable Giving Incentives 
Building on years of advocacy by orchestras in partnership with the broader nonprofit sector, a new universal charitable deduction is available, allowing the growing number of taxpayers who do not itemize their returns to receive a tax deduction of up to $300 for cash charitable donations to 501(c)(3) nonprofit organizations during calendar year 2020. For taxpayers that itemize returns, the limit on the total percentage of Adjusted Gross Income (AGI) eligible for the charitable deduction has been lifted. The limit on corporate contributions has been lifted to 25%.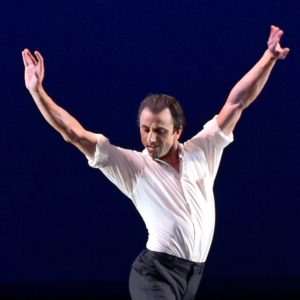 Header Photo
Dan Roberge in Songs by Cole
Mariah Miranda Photography