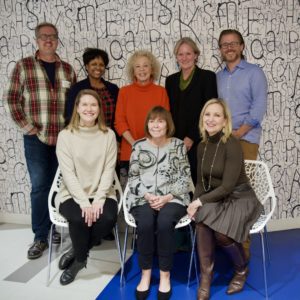 NAN MORING, CO-PRESIDENT
Nan Moring became a certified fundraising executive in 1999 and has been fundraising for more than 20 years. She is a proven leader and raised funds at a wide variety of charities, ranging from local organizations such as The Washington Ballet to national ones like the American Red Cross and United Negro College Fund. Starting with her experience as a captain in the Air Force, she has demonstrated leadership experience and constantly seeks new challenges. Nan holds an M.P.A. degree from Troy State University and a B.A. in philosophy from the University of Oregon. She has served as Chapter II president for the Capital Speakers Club and serves on the St. James vestry and finance committee.
Nan has been a board member since 2018.
TANYA GREEN, BOARD SECRETARY
Tanya is a native New Englander living and working in our nation's capital. She worked as a portrait photographer during her gap "years between" college and law school, concluding that law was the more practical career choice. She found her niche for performing arts and event photography after taking up ballroom dancing as a hobby and photographing fellow dancers at competitions and other events. Dance and photography are the marriage between her two passions.
Tanya has been a board member since 2020.
JASON JARRELL, CO-PRESIDENT
Jason C. Jarrell is a Washington, D.C., resident and leads the global practice for Interel, a European-based international public affairs firm. His background spans both the public and private sectors, with more than 15 years of experience in diplomacy, international trade, executive education, and corporate public affairs. As both a professional communicator and a lifelong supporter of the arts, Jason has a passion for the innovative and the creative, taking original ideas from thought to reality to inspire and make an impact. A native of Illinois, Jason grew up in an artistic household and has enjoyed discovering hidden and unique museums and theaters around the world, particularly in St. Petersburg and Moscow when he lived in Russia for several years.. When not helping his clients with international issues, Jason likes to spend time hiking in the Shenandoah mountains or exploring the Eastern Shore.
Jason has been a board member since 2016.
JOY TREUTEL, TREASURER
Joy is a manager at KPMG LLP. Her specialties include audit and advisory services, focusing on the Federal government. She has been in public accounting for more than seven years and has experience with a wide variety of clients. Joy's passion for the arts began at a young age, with her first art class in middle school. She continued developing her love of art by learning more through theater classes and attending plays and musicals. Living in Washington, D.C., she enjoys visiting local art museums and exploring their permanent and temporary exhibits. Joy brings a love for the arts and accounting experience to the board and Chamber Dance Project.
Joy has been a board member since 2017.
DIANE COBURN BRUNING, EX-OFFICIO
Diane is the Artistic Director of Chamber Dance Project. Read her bio by clicking the button below.
LINDSAY NEINAST
Lindsay Neinast is an associate at Littler Mendelson, P.C., where she litigates employment discrimination and sexual harassment disputes in federal and state courts around the country. Prior to joining Littler, Lindsay was an assistant attorney general at the Office of the Attorney General for the District of Columbia, where she handled jury trials in federal and state court. Lindsay holds a B.S. from the University of Texas and a J.D. from the University of Richmond. Having lived in Austin, Lindsay is passionate about live music, particularly jazz. She has enjoyed dance since she started classes at the age of 5, and loves combining her devotion to dance and music by serving on the board at Chamber Dance Project. As a resident of the District, Lindsay is active in the arts community, a member of the Smithsonian Women's Committee, and particularly focused on enriching underserved communities with live performances. When she is not in court, Lindsay is hiking the Blue Ridge mountains, enjoying museums, or exploring a new coffee shop or restaurant in the District.
Lindsay has been a board member since 2018.
SUSAN VALLON
Susan Vallon has operated her own interior-design business in Washington since 1976. She has designed hundreds of residences, as well as the headquarters of the National Pharmaceutical Council, the Edmond J. Safra Family Lodge at the National Institutes of Health, and numerous law offices.
Susan has been an active member of the Smithsonian Women's Committee and in 2017 was co-chair of its annual Craft Show, the most prestigious such event in the nation. She and her husband are members of the Smithsonian Legacy Society, with a special interest in the Hirshhorn Museum. Susan was also a board member of the Design Industry Foundation Fighting AIDS (DIFFA) and Faces of the Fallen, a tribute at Arlington National Cemetery to U.S. soldiers who died in Afghanistan and Iraq. Susan was captivated by contemporary dance in the mid-1970s and has been a season-ticket subscriber since that time. She was formerly a member of the Women's Committee of The Washington Ballet.
She is also a painter, specializing in pastels, a yoga practitioner, and an accomplished cook. Since 1987 she has been married to Andrew Beyer, a former Washington Post sports columnist and author of books on horse racing, They have traveled extensively together, usually with a focus on art. They have explored galleries in many parts of the world—including Vietnam, Argentina and Australia—to acquire works for their home in Northwest Washington.
Susan has been a board member since 2019.
ALIX MCDONOUGH
Alix was born in Seattle, and attended the University of Oregon where she received a B.A. in creative writing. After graduation, she worked for five years in Paris, Geneva and Copenhagen. Returning to the US, she attended the University of Washington in Seattle where she earned a master's degree in architecture. She practiced commercial architecture in Seattle and Chapel Hill, North Carolina, until moving to Washington, D.C., where she worked for Kemnitzer, Reid, Haffler Architects until retirement. She supports CDP by fundraising and writing blogs about dancers, choreographers, musicians, directors, and CDP's costume designer.
Alix has been a board member since 2020.
TROY RIEMER
Troy is the founder of Red Clay Creative, a team of creative professionals that excels at creating beautiful websites. He's passionate about helping people and businesses achieve their dreams of success, and has worked with hundreds of businesses to deliver value to their customers. He works to understand the user needs and brings a unique perspective to each project, ensuring that solutions are always customer-focused. Troy believes that hard work, communication, and integrity are integral to any relationship and strives to help businesses with those core values at his foundation.
He originally worked with Chamber Dance Project as their Marketing and Design Director and transitioned to the board at the end of 2021. On the board, 
Troy
will continue building the marketing strategy for CDP so that we are no longer Washington DC's best-kept secret.
Troy has been a board member since 2021.
GUY WILLIAMS
Guy Morgan Williams is the president and founding principal of DCA Landscape Architects, Inc.
His firm, based in Georgetown, was founded in 1983. Guy has been practicing for more than 35 years, and in addition to design is recognized for his technical expertise and leadership capabilities in carrying a project from conception to completion. His projects range from high-end residential and urban and suburban gardens to large-scale master planning for estates, farms and escapes, to embassies, commercial, academic, and public endeavors. As well as working in the Washington metropolitan area, Guy has projects spanning from Maine to the Caribbean to the West Coast and abroad. His award-winning work has been featured in hundreds of publications and books. Many of his projects are the result of successful collaborative efforts with other design professionals, artists, and craftspersons.
Guy received his bachelor's degree in landscape architecture from Pennsylvania State University and is a member of the American Society of Landscape Architects. Guy is a patron of the arts and education, recognizing that as a child, his early exposure to music and the arts and the natural world by his family taught him to "see," opened up a world of possibilities for his direction in life, and fueled his passion for creative problem solving. Family and friends, art and travel, painting, drawing, and learning are what he enjoys most.
Guy has been a board member since 2020.
KALLEY MCMULLEN TERRY
Kalley is a financial analyst at Capital One with more than 4 years of experience in corporate finance. She graduated from the University of Notre Dame with a degree in finance and theology. A lifelong dancer, Kalley is passionate about dance and the performing arts. While at Notre Dame, Kalley was a choreographer and dancer for the Notre Dame Dance Company and TransPose Dance Collective. She enjoys continuing to take classes as well as attending performances in the Washington area.
Most recently, Kalley was a consultant for Chamber Dance Project through Compass Pro Bono Consulting. In that role, she developed and delivered recommendations for the company including strategies around focused on marketing, social media, and events. Kalley brings her passion for contemporary ballet along with her expertise in financial analysis to Chamber Dance Project.
Kalley has been a board member since 2020.
DEBBI IWIG
Debbi is a Retired Finance Executive for international not-for-profit and for-profit organizations in the DC Metropolitan area. She has worked with the German Marshall Fund and Project HOPE as their CFO, Treasurer, and as a Member of their Executive Communities. She has also worked for Marriot International as a VP Financial Analyst, VP Retirement Benefits, and Senior Living Director. Debbi was a Certified Public Accountant and chose to become inactive upon retirement. She holds an MBA from the University of Nebraska and a B.S. from Baker University.
Debbi has had a long-term interest in the arts, including Kennedy Center, Wolf Trap, Washington Ballet, 1st Stage, Master Chorale of Washington, and Washington Chorus; she supports primarily as a member, attending special events, and some volunteering. She is an active participant with Master Chorale and Washington Chorus as a singer. She is a volunteer Board member of VA United Methodist Pensions, Inc. Debbi is an active community volunteer through church and other local programs. Current areas include food distribution, church choir, membership in human resources and strategic planning committees, and prison ministry.
Debbi has been a board member since 2021.
MARY MCGRANE
Mary is a long-time resident of the Washington area and has spent the majority of her career in government and private sector positions focused on health care issues. She served as a legislative aide in the U.S. Senate and as Counsel to the House Energy and Commerce Committee in the U.S. House of Representatives.  Her responsibilities included numerous issues ranging from Medicare, health reform, to intellectual property and food safety. After a dozen years on Capitol Hill, Mary moved on to senior positions in the pharmaceutical and biotechnology industry.  She retired a number of years ago from Genzyme Corporation where she served as a corporate officer and Senior Vice President for Government Affairs.
Mary holds a J.D. from Catholic University, an M.A. from Drew University, and a B.A. from Muhlenberg College.
Mary is a long-time fan of ballet and is an avid reader, traveler, and loves to cook.
Mary has been a board member since 2021.
MICHELE KIMBALL
Michele Kimball has been an executive and government relations professional for much of her career. Since 2021 she has been the Executive Director at Kidney Care Partners, the nation's largest non-profit coalition of stakeholders fighting to improve care for individuals living with kidney disease. Previously, she served more than 20 years as both a health policy advocate for AARP in Washington, DC, as well as the Director of AARP's Minnesota State Office. Most recently, she was the President and CEO of Physicians for Fair Coverage, a national, multi-specialty, non-profit, non-partisan advocacy organization that successfully and collaboratively worked to end surprise medical billing at both the state and federal levels, and was the Principal and Founder of AdvocateUS, working with numerous national organizations to support efforts to enhance patient access to affordable care.
Michele has served on numerous boards and commissions throughout the years, and currently serves as a member of AARP's National Advisory Panel for Long-Term Care Services and Supports. She has a degree in Public Administration and Public Law from Alfred University, a Certificate in Strategic Management from St. Thomas University, and a Certificate in Women's Leadership from St. Catherine's University.
Michele joined the board in 2022.
Header Photo
Julia Erickson, Davit Hovhannisyan, Francesca Dugarte, and Jonathan Jordan in Rondo Ma Non Troppo
Mariah Miranda Photography
Board Photo
Tanya Green Photography