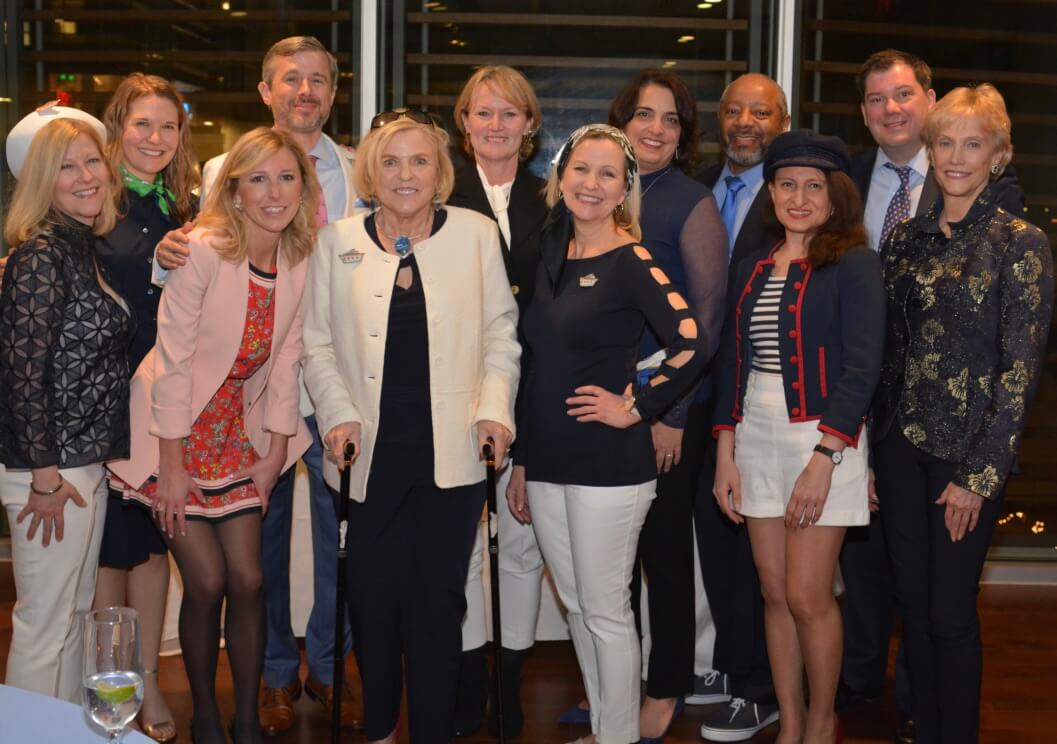 NAN MORING, PRESIDENT
Nan Moring became a Certified Fundraising Executive in 1999 and has been fundraising for over 20 years. She is a proven leader and raised funds at a wide variety of charities ranging from local charities such as The Washington Ballet to national ones like the American Red Cross and United Negro College Fund. Starting with her experience as a Captain in the Air Force she has demonstrated leadership experience and constantly seeks new challenges. Nan holds MPA from Troy State University and a BA in philosophy from the University of Oregon. She has served as Chapter II President for the Capital Speakers Club and serves on St. James Vestry and Finance Committee.
CYNTHIA SHOUP SCHIFFRIN, VICE PRESIDENT
Cynthia is a registered architect with over 25 years of professional experience in design, project management and construction of office, university, research & development and residential buildings. She brings both a strong design and concrete business sense to her work, as well as a commitment to energy-efficient, sustainably designed buildings. She practiced architecture in Philadelphia for 20 years prior to moving to Washington DC with her husband and son. Her lifelong love of dance and the visual arts have led her to pursue numerous artistic endeavors which include working with her son's school on theater set design and construction, as well as painting, book making, and dance classes. A former board member of the Philadelphia chapter of the American Institute of Architects, the Philadelphia Society for the Preservation of Landmarks and a co-chair of various arts endeavors, she has substantial experience with artistic not-for-profit board-level work. She is always interested in new ideas and experiences, especially in the arts, which is what led her to Chamber Dance Project. She also enjoys skiing, yoga, photography, and food.
JOY TREUTEL, TREASURER
Joy is a manager at KPMG LLP. Her specialties include audit and advisory services, focusing on the Federal government. She has been in public accounting for over 7 years and has experience with a wide variety of clients. Joy's passion for the arts began at a young age, with her first art class in middle school. She continued developing her love of art by learning more through theater classes and attending plays and musicals. Living in Washington, DC, she enjoys visiting local art museums and exploring their permanent and temporary exhibits. Joy brings a love for the arts and accounting experience to the Board and Chamber Dance Project.
GEORGE STAUFFER, BOARD SECRETARY
George M Stauffer serves as General Counsel and Senior Vice President for the MLF Financial Group, the holding company for a diversified portfolio of asset management and financial planning companies.  George, is a seasoned attorney with an extensive background in mergers & acquisitions, corporate transactions, and regulatory law. Throughout his career, George has advised clients on a broad spectrum of legal issues, including advising some of the world's largest corporations on industry leading mergers and acquisitions, large finance deals, and the business of insurance and insurance related financial products.  Prior to joining Maple, he was a senior attorney at the law firms of DLA Piper, Mayer Brown and Crowell & Moring.
When not practicing law, George is an avid traveler, having visited over 50 countries on five continents.  George loves to cook and is particularly fond of making Persian and middle eastern cuisine (not to mention Italian given his Sicilian blood).  A former all-american Division 3 collegiate football player, he is also a lover and patron of the arts who believes that dance music, and all forms of artistic expression are the foundations upon which everything else in a society is built.
JASON JARRELL
Jason C. Jarrell is a Washington, D.C., resident and leads the global practice for Interel, a European-based international public affairs firm. His background spans both the public and private sectors, with more than fifteen years of experience in diplomacy, international trade, executive education and corporate public affairs. As both a professional communicator and a lifelong supporter of the arts, Jason has a passion for the innovative and the creative, taking original ideas from thought to reality to inspire and make an impact. A native of Illinois, Jason grew up in an artistic household and has enjoyed discovering hidden and unique museums and theaters around the world, particularly in St. Petersburg and Moscow Russia where he lived for several years. When not helping his clients with international issues, Jason likes to spend time hiking in the Shenandoah mountains or exploring the Eastern Shore.
DEBORAH DOWNEY
Deborah Downey is a graduate of University of South Carolina Law School and began her career in Washington DC. Deborah worked at the Lawyers' Committee for Civil Rights Under Law as well as the FERC to work in the regulation and litigation of natural gas law. Deborah and her husband Bruce have raised their family in the DC area. They have had a long-standing appreciation of the fine arts. As a family, the Downeys remain active in attending theatre, ballet, concerts, and museums, both in Washington DC and in New York City. Deborah's lifelong learning in the arts, her devotion to family, and her career in the legal sector have helped define her role on the Board as an advocate for community engagement to underserved populations by the Chamber Dance Project.
LINDSAY NEINAST
Lindsay Neinast is an Associate at Littler Mendelson, P.C., where she litigates employment discrimination and sexual harassment disputes in federal and state courts around the country. Prior to joining Littler, Lindsay was an Assistant Attorney General at the Office of the Attorney General for the District of Columbia, where she handled jury trials in federal and state court. Lindsay holds a B.S. from the University of Texas and a J.D. from the University of Richmond. Having lived in Austin, Lindsay is passionate about live music, particularly jazz. She has enjoyed dance since she started classes at the age of 5, and is particularly passionate about combining her two passions (dance and music), which led her to serve on the Board at Chamber Dance Project. As a resident of the District, Lindsay is active in the arts community, a member of the Smithsonian Women's Committee, and particularly passionate about enriching underserved communities with live performances. When she is not in court, Lindsay is hiking the Blue Ridge mountains, enjoying museums, or exploring a new coffee shop or restaurant in the District.
PHILIPPE CRANE
Philippe has resided in New York City since he and his wife Katherine started their careers in the financial industry after graduating from Connecticut College. Philippe works in the financial industry in New York. He began playing the violin at the age of five in Munich, Germany, where his family lived at the time. He continued his passion for stringed instruments throughout his teens studying many blues and jazz greats but does not find much time to play these days. In addition to serving on the board of Chamber Dance Project as the Development Committee Chair, he has been a strong supporter of the Kaufmann Music Center and a longtime member of St. Bartholomew's Church on Park Avenue. He joined the Chamber Dance Project Board in 2016.
SUSAN VALLON
Susan Vallon has operated her own interior-design business in Washington since 1976. She has designed hundreds of residences, as well as the headquarters of the National Pharmaceutical Council; and the Edmond J. Safra Family Lodge
at the National Institutes of Health; and numerous law offices.
Susan has been an active member of the Smithsonian Women's Committee and in 2017 was co-chair of its annual Craft Show, the most prestigious such event in the nation. She and her husband are members of the Smithsonian Legacy Society, with a special interest in the Hirshhorn Museum. Susan was also a board member of the Design Industry Foundation Fighting Aids; and Faces of the Fallen, a tribute at Arlington National Cemetery to U.S. soldiers who had died in Afghanistan and Iraq. Susan was captivated by contemporary dance in the mid- 1970s and has been a season-ticket subscriber since that time. She was formerly a member of the Women's Committee of the Washington Ballet.
She is also a painter, specializing in pastels; a yoga practitioner; and an accomplished cook. Since 1987 she has been married to Andrew Beyer, a former Washington Post sports columnist and author of books on horse racing, They have traveled extensively together, usually with a focus on art. They have explored galleries in many parts of the world—including Vietnam, Argentina and Australia—to acquire works for their home in northwest Washington.
CAROLIN CRABBE
Carolin Crabbe is a development economist with experience in financial systems and business development. She held senior positions at the Inter-American Development Bank and USAID, managed her own company the Global Finance Group LLC and worked in commercial banks and the World Bank. She is a past Vice President and Founding Member of the Professional Bankers' Association, Senior Economic Advisor at the U.S. Naval Academy, Adjunct Professor at American University, and Fellow of the Economic Development Institute. She grew up overseas and in her career worked in over forty countries in Europe, Latin America and the Caribbean, Africa, and Russia where she was the USAID Director of Private Sector programs aimed at helping Russia establish a market-based economy. She has written on financial and development issues including A Quarter Century of Pension Reforms in Latin America and the Caribbean. 2005, (IDB), "Making Financial Markets Inclusive," Infrastructure and Financial Markets Review (IFM), and recently published her first historical novel on colonial Virginia in the seventeenth century –Rebellion on the Chesapeake: America's First Revolution in 1676. Since retiring from development finance, she pursues life-long interests in music and dance — volunteering with the Chamber Dance Project and the Washington National Cathedral— as well as veterans groups.
LEILA BHAM
Leila Bham is Senior Special Counsel at the U.S. Securities and Exchange Commission, specializing in securities law and financial regulation.  The arts have long pervaded Leila's life.  Since a young age, she enjoyed studying and performing ballet, tap and jazz dance as well as piano and trumpet.  In college, she produced Rigoletto for the Lowell House Opera, New England's longest continually performing opera company.  She remains a student of dance and regularly attends live dance, music and theater performances, both at home and on her travels.
Leila actively supports the legal profession, as elected Chair of the D. C. Bar's Corporation, Finance and Securities Law Community.  With the American Bar Association's International Law Section, she leads rule of law initiatives and co-chaired its Annual Meeting.  She also co-chaired the annual conference on impact investing and social entrepreneurship at New York University School of Law, and launched a related D.C. Chapter.
Leila began her career in private practice at the international law firm Freshfields Bruckhaus Deringer in London, advising companies and investment banks on global capital raisings, and also consulted for the World Bank. She holds an A.B. from Harvard and a J.D. from Georgetown.
JACQUELINE EGHRARI-SABET, M.D.
Jackie attended Smith College and NYU School of Medicine and has been in private clinical practice since 1994 in metro Washington DC. Jackie is the founder of Family Allergy and Asthma Care. She has pursued her passion in educating on health and wellness by serving as a weekly medical contributor for NBC News in Washington DC for the past 12 years and as President of the health education consulting service, White Coat Resources. Jackie is a past Board Member of Tahirih Justice. Most recently she is a member of Ready to Soar committee for the National expansion campaign. She has served as the Chairperson of the multifaith service and educational community group in Fairfax County and as representative of the Bahai Faith. Jackie is married with two sons.
Jackie is also passionate about the arts. After several years of being a patron of Chamber Dance Project and the New Works Fund, Jackie is joining the Board and our strategic planning committee to help the company reach the next level.
EUSEEKERS "ZEKE" WILLIAMS
As a young man, Zeke Williams was determined to become a military aviator, pursue a quality education, raise a family and create a viable, useful business. He joined the Marine Corps out of high school and became an aviation technician. He later went off to the Southern University A&M College in Baton Rouge, Louisiana after receiving a Navy ROTC scholarship. Upon graduation, he became an artillery officer and served in Operation Desert Storm and Desert Shield. Williams transferred to the Navy to attend flight school in 1991, and was transferred back to the Marine Corps to fly helicopters in 1995. Still focused on education, he earned a Masters in Business Administration from Duke University along the way.
Retiring in 2006 as a lieutenant colonel, he began his business career. First with Pratt and Whitney, an aerospace and defense company, and then the creation of his own firm with a focus on global business development. Outside of his business pursuits Colonel Williams has many additional interests. He is the Chair of the Duke Alumni Admission Advisory Council for Northern. Virginia, former Unit Commissioner for the Boy Scouts of America, Treasurer of his homeowners association and Board Chair for the District Alliance for Safe Housing (DASH).
PAULA LYTLE
Paula Franklin Lytle is a native Baltimorean and a graduate of Johns Hopkins University where she met her future husband at an audition. After finishing her PhD in political science at Yale, she taught comparative politics at Lewis and Clark College. Her research focus on the former Yugoslavia led her out of academe and into international development; she began working at the World Bank focusing on post-conflict reconstruction in 1998. As a senior social scientist, she has worked and traveled throughout Eastern Europe and sub-Saharan Africa. Since moving to D.C., she and her family have supported both dance and theatre. She is currently working on a manuscript about Chester Wickwire and the role of cultural institutions in the civil rights movement in Baltimore. Her particular interests are in community engagement.
Header Photo
Julia Erickson, Davit Hovhannisyan, Francesca Dugarte, and Jonathan Jordan in Rondo Ma Non Troppo
Mariah Miranda Photography