A SPECIAL EVENT

Wednesday, April 20, 2022| 6:30-8:30 PM
CONCERT AND RECEPTION AT THE LYCEUM IN OLD TOWN ALEXANDRIA
Join our String Quartet for a concert of music for the June season, featuring works by
Luigi Boccherini, Jlin Patton, Russell Peck, Caroline Shaw, Aleksandra Vrebalov. The
concert is followed by a discussion and reception with Diane and the musicians. Tickets
are $30 for non-members and $20 for members. Click the button below to purchase your tickets today.
If you have any questions about tickets, please email john@chamberdance.org
CONCERT REPERTOIRE
Russell Peck, Don't Tread on Me or on My String Quartet
Caroline Shaw, Plan & Elevation
Luigi Boccherini, String Trio No. 5 in G minor, G. 93: II. Rondo allegro
Alkesandra Vrebalov, My Desert, My Rose
Jlin, Little Black Book
All patrons must be fully vaccinated against COVID-19.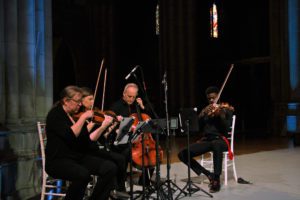 The string quartet performing at the Washington National Cathedral. Photo by Troy Riemer