THE WASHINGTON NATIONAL CATHEDRAL
SUNDAY, JULY 18
With the prediction of rain this weekend, we are moving our Saturday July 17 Amphitheater performances into the beautiful National Cathedral in Washington, DC on Sunday July 18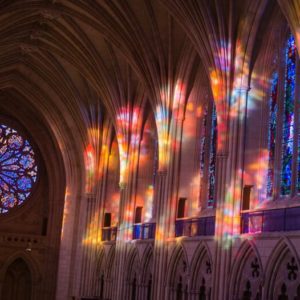 Sunday, July 18
Performances start at 7pm
House opens at 6:40pm
Performance Ticket – $30
WHERE TO PICK UP TICKETS?
All tickets purchased now will be will call.
If you received your ticket for the original date and time in the mail, bring that ticket to the performance.
If you are picking up your ticket at will call, there will be a table set up as you walk in and an usher will be ready to check you in and hand you your ticket.
3101 Wisconsin Ave NW
Washington, DC 20016
Parking: Please park in the garage on the grounds of the National Cathedral
Please use the center front doors of the Cathedral building to enter
Performance runs 1 hour and 15 minutes
Masks are required for everyone attending including all audience members and staff
Premium tickets will be seated in the front rows
Ticket buyers that are unable to attend this will receive a link to watch a video of the performance in a few weeks
Dwellings – World Premiere
Six dancers and string quartet
Choreography: Christian Denice
Music: Stephan Thielen, Aftab Darvishi, Philip Glass
In the Silence – World Premiere
Two dancers
Choreography: Cooper Verona
Music: Arvo Pärt

Alight – World Premiere
Five dancers and string quartet
Choreography: Claudia Schreier
Music: Chris Rogerson

Arrival – World Premiere
Two dancers and cello
Choreography: Christian Denice
Music: Philip Glass

Rhapsody
Solo violin
Music: Jesse Montgomery

Four Men – World Premiere
Four dancers and string trio
Choreography: Diane Coburn Bruning
Music: Luigi Boccherini