Ian Debono is a native of San Francisco and currently attends the Juilliard School working towards a Bachelor of Fine Arts in Dance. In his three years there, Ian has been fortunate enough to perform new works and repertoire of Ohad Naharin, Trisha Brown, Paul Taylor, Donald McKayle, Andrea Miller, Sonya Tayeh, Amy Hall Garner, and Norbert De La Cruz III. In his hometown, he trained in ballet and contemporary dance at San Francisco Academy of Ballet and Ruth Asawa School of the Arts, working with Alonzo King LINES Ballet faculty Arturo Fernandez and Gregory Dawson. In 2016, he performed in the Oakland Ballet Company's 2016 production of The Nutcracker, and in 2021, he performed in West Edge Opera's production of Eliogabalo. This is his second season with Chamber Dance Project.
Photo by Eduardo Patino.NYC.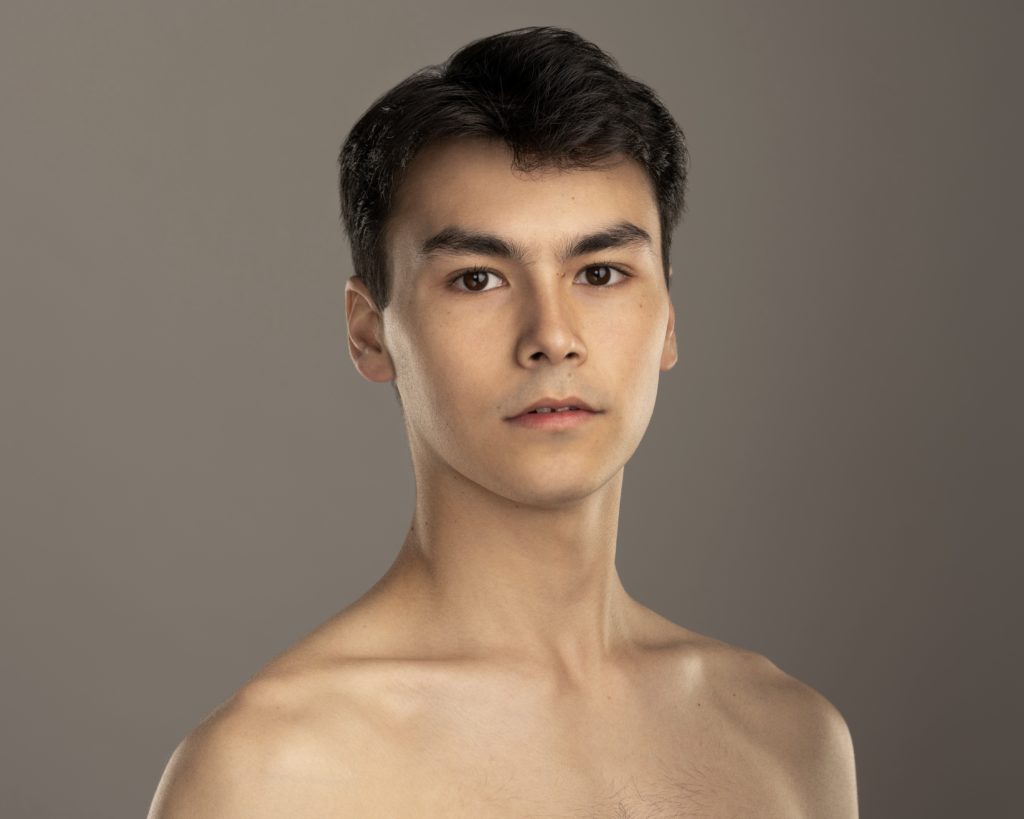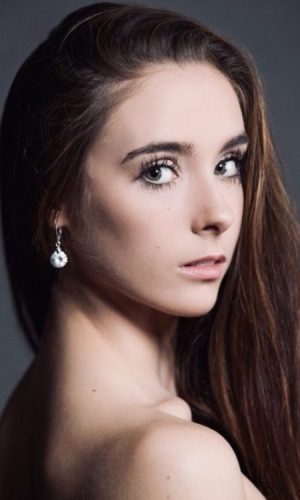 Sophie Miklosovic, Michigan native, is currently a Company Artist with BalletMet.
Her pre-professional training was under Magaly Suarez, The Art of Classical Ballet, Pompano Beach, FL. Her early ballet training was developed in Michigan by Valentina Barsukova, Valentina's Ballet and Meg Paul, Complexions Ballet Associate Artistic Director. Her early contemporary training was with Liz Schmidt-Mazurkiewicz, Spotlight Dance Works. 
Since joining BalletMet in 2017, at age 17, she has performed leading roles in Cinderella, Romeo and Juliet, The Nutcracker, Giselle, Don Quixote, among others. She has also performed works by George Balanchine, Jerome Robbins, Edwaard Liang, David Nixon, Christopher Wheeldon, Gustavo Ramirez Sansano, Ulysses Dove, Amy Siewert, Andrea Schermoly, Annabelle Lopez Ochoa, Alexander Ekman. As a professional guest artist, she has performed principal roles from Swan Lake, La Bayadere, Don Quixote, Le Corsaire, Flames of Paris, The Nutcracker. 
Her awards include the Gold Medal at the World Ballet Competition in Orlando, the Morning Star Foundation Award at the Beijing IBC in China, 1st Place, Gold Medal at the Cuban IBC & festival in Havana, she also received the Director's Legacy Award at the Universal Ballet Competition and was a Top 3 Scholarship winner, at the National Society of Arts & Letters, En Pointe Classical Ballet Competition. In 2019, Sophie was named as one of Dance Magazine's Top 25 to Watch. 
Photo by Eduardo Patino.NYC
Patric Palkens is in his first season with Atlanta Ballet after having been a Soloist for Boston Ballet, with over a decade of experience performing both classical and contemporary repertoire for ballet companies around the world. Patric is known for his charming stage presence, dynamic jumps and athletic partnering. He has performed leading roles by choreographic greats such as Jerome Robbins, George Balanchine, William Forsythe, Annabelle Lopez Ochoa, Victoria Morgan and Val Caniparoli. Patric Is excited and grateful to return to Chamber Dance Project this summer for his fifth season to be a part of creating new work and revisiting some old favorites.
Photo by Eduardo Nile Scott Photography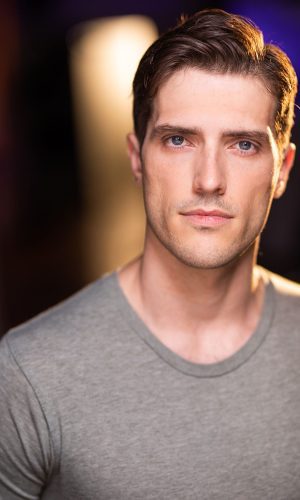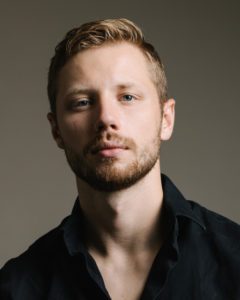 Alexander Sargent is a Washington D.C. native, having begun his dance training under Kee Juan Han at The Washington Ballet before attending and graduating from The HARID Conservatory with the Jeannot B. Cerrone Award for excellence in performance. In 2020 he graduated from Juilliard. Alex has performed in works by Martha Graham, Peter Chu, Twyla Tharp, José Limón, and Stephen Petronio and danced the principal role in Donald McKayle's Crossing the Rubicon at Lincoln Center. Alex has also worked as a digital media producer for performing artists and arts organizations since 2018. This is Alex's fourth season with Chamber Dance Project.
Benjamin Simoens began his dance training at age five under Diane Lauridsen in Los Angeles, California, at the Lauridsen Ballet Center. In 2014, he was accepted into the Juilliard School, where he continued his dance studies. There, he had the opportunity to perform lead roles in Moves by Jerome Robbins and Little Mortal Jump by Alejandro Cerrudo. He had the privilege to study with many influential teachers, including Lawrence Rhodes, Risa Steinberg, Terese Capucilli, Bobbi Jean Smith, Milton Myers, and Francesca Harper, Francisco Martinez, and many more. After graduating in 2019, Simoens joined Milwaukee Ballet, where he performed in Michael Pink's Coppélia and Pink's world premiere, Classical Symphony. He has also danced in works by Timothy O'Donnell, Garrett Glassman, Aleix Mañé, Enrico Morelli, Dani Rowe, and Darrell Grand Moultrie. In the summer of 2022, Benjamin performed the North American premiere of Edward Clug's "Mutual Comfort" with SFDanceworks. This is Benjamin's first season with Chamber Dance Project.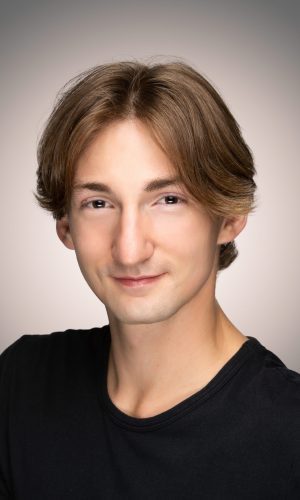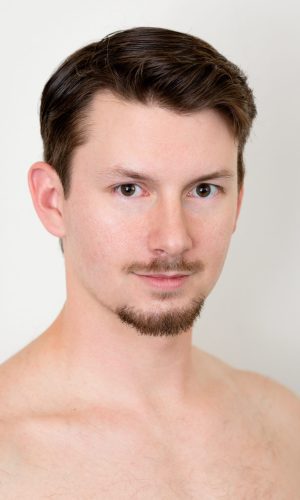 John-Paul Simoens began his dance training at age seven under Diane Lauridsen in Los Angeles, California. In 2012 he was a semi-finalist in the Prix de Lausanne competition in Switzerland where he received a scholarship to attend the San Francisco Ballet School. In 2014 He was named an apprentice with the company. John-Paul has been with the San Francisco Ballet for nine years performing principal roles including Helgi Tomasson's Don Quixote, Concerto Grosso and Fifth Season; Jerome Robbin's Fancy Free and The Cage; Val Caniparoli's Ibsen's House; Benjamin Millipied's The Chairman Dances; Arthur Pita's Bjork Ballet; Yuka Oishi's Bolero; Liam Scarlett's Fearful Symmetries and many other featured roles. John-Paul has been involved in the process of creating new works with many choreographers including Christopher Wheeldon, William Forsythe, Cathy Marston, Justin Peck, David Dawson, Dani Rowe, Yuri Possokhov, Robert Garland, and Myles Thatcher among others. This is John-Paul's first season with Chamber Dance Project.
Fuki Takahashi was born Yokohoma, Japan, and began training at age 3 at Yuzue Ballet Academy. She moved to the United States in 2010, and trained at Princeton Ballet and Hariyama Ballet in New York. Ms Takahashi competed in the International Ballet Competion in Jackson, Mississippi. In 2014 she earned silver in the Tanzolymp International Dance Festival. Through American Dance Competition Fuki joined Orlando Ballet's second company. She joined Atlanta Ballet in 2018. She's had the opportunity to perform works by renowned choreographers such as George Balanchine, Liam Scarlet, Justin Peck, Yuri Possokhov, Lar Lubovitch, Dwight Rhodes and Claudia Schreier.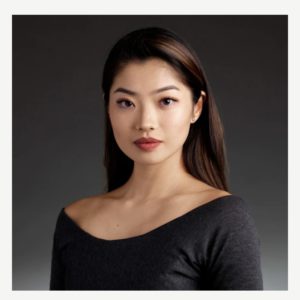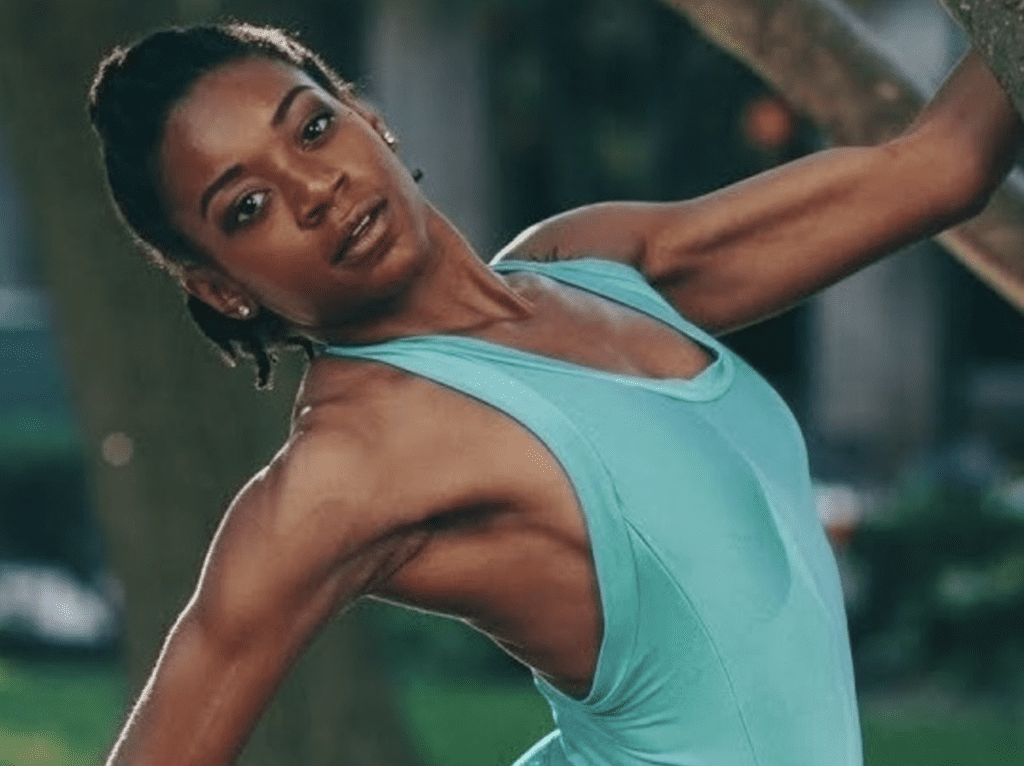 Jiamond Elizabeth Watson was born in Oxon Hill, Maryland and grew up in Northeast Washington attending Duke Ellington School of the Arts, where she was awarded $10,000 from the DC-Capital STARS Talent Competition in 2015. In 2016, she was awarded the Director's Scholarship to attend the University of the Arts in Philadelphia. There she performed works by Sidra Bell, Tommie-Waheed Evans, Ronald K. Brown, and Amy Hall Garner and then joined BalletX as an apprentice working with choreographers Matthew Neenan, John McFall, Gregory Paul Dawson, and Jo Stromgren. Since graduating in 2020, Jiamond has been a guest artist with Alonzo King Lines Ballet, taught at the Paula Brown Performing Arts Academy, and performed her own choreographic work at the Edgewood Arts Center in Washington, DC. Jiamond is learning Tommie-Waheed's new work, Gravity to Grace, for our June 2022 season. This is Jiamond's second season with Chamber Dance Project.
Photo by Georgia Wescott Photograph.
Hannah Ray Bruce was born in Barrington, IL where she trained at Barrington Dance Academy. She graduated summa cum laude from Point Park University with a Bachelor of Fine Arts in dance. While at Point Park, Hannah performed works by Peter Merz, Ernest Tolentino, Kiesha Lalama, and Nicholas Petrov's Romeo and Juliet. Hannah has danced professionally with MERZTANZ Contemporary Ballet Company under Peter Merz, Convergence Ballet under Jennifer Cafarella, and was a principal dancer with Central Illinois Ballet under Rebekah von Rathonyi. Hannah has performed roles including Mina and Lucy in Dracula, Clara and Sugar Plum Fairy in The Nutcracker, the title role in Firebird, Daisy in Gatsby the Ballet, the title role in Cinderella, Glinda in Wizard of Oz, Johanna Barker in Sweeney Todd, Aurora in Rose Adagio with the Peoria Symphony Orchestra, and originated the role of Christine in von Rathonyi's Phantom of the Opera. This is Hannah's first season with Chamber Dance Project.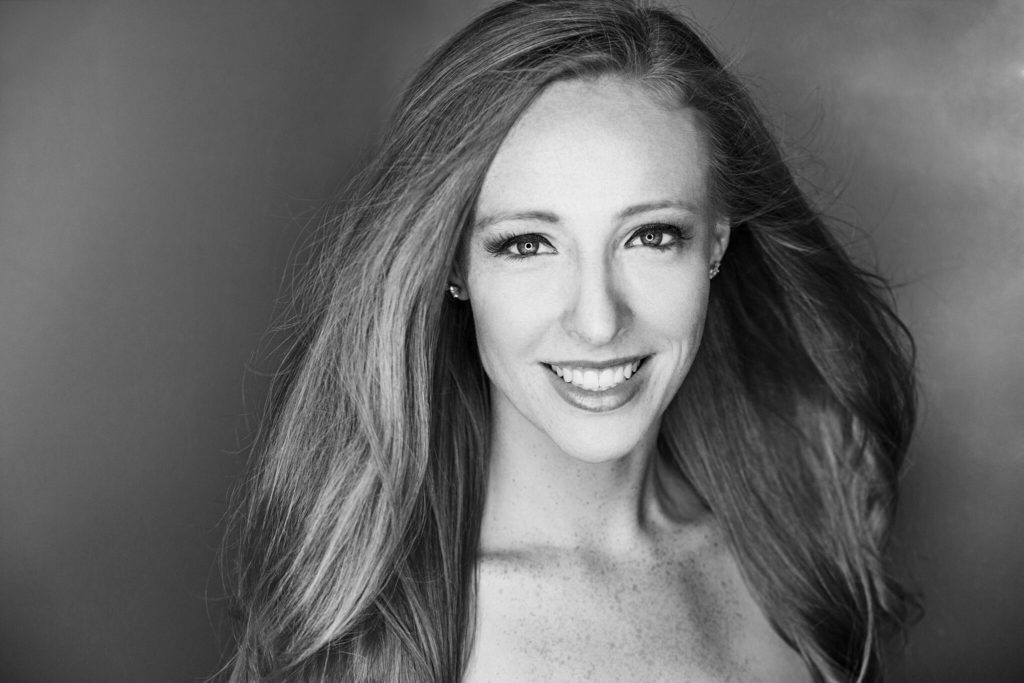 Violinist Sally McLain received her Bachelor and Master of Music degrees with High Distinction from Indiana University, where she studied with and was assistant to James Buswell. Critically hailed as a "violinist with lots of style" (Washington Post), she has performed as soloist to critical acclaim in a variety of venues that include the Clarice Smith Center's Gildenhorn Recital Hall, the Kennedy Center's Terrace Theater, the Library of Congress, Lisner Auditorium, National Gallery of Art, and the Smithsonian American Art Museum. She was a member of the Theater Chamber Players, as well as the Potomac String Quartet, which recorded the complete quartets of David Diamond and Quincy Porter for Albany Records. She is a founding and current member of the Left Bank Quartet, which has been praised for its "brilliant focus and timbral variety" (Gramophone magazine). She is also an adjunct chamber music faculty member at the University of Maryland. She was the concertmaster of the Washington Chamber Symphony for ten seasons and is currently concertmaster for Washington Concert Opera. This is Sally's seventh season with Chamber Dance Project.
Photo by Geoff Sheil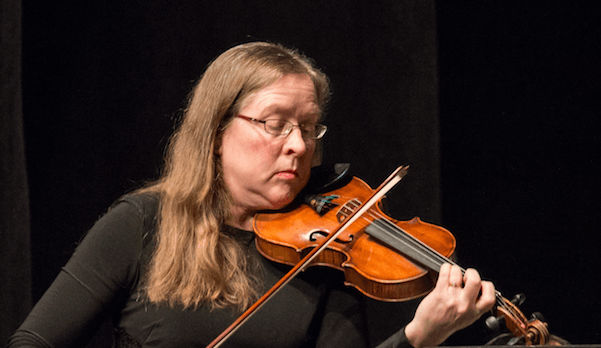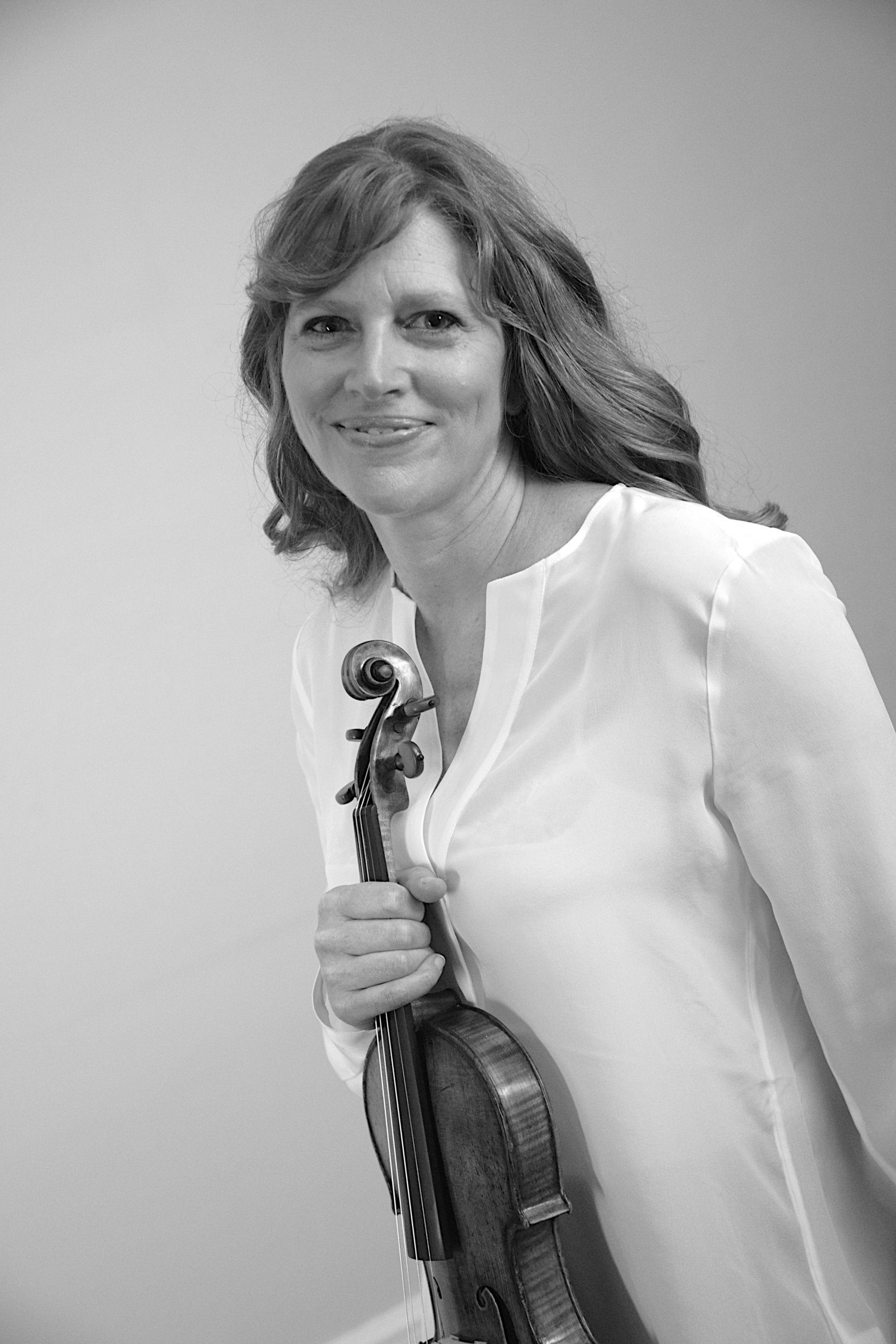 A classically trained musician, Karin Kelleher has had a varied and successful career in the symphonic world, playing with the Milwaukee Symphony, Milwaukee Ballet Orchestra and Knoxville Symphony, and holding concertmaster positions with the Woodstock Mozart Festival, Washington Opera Society, the Prairie Ensemble, and Racine Symphony.
Currently she performs with local Washington, DC arts organizations, including the Annapolis Symphony, Maryland Symphony, Washington Concert Opera Orchestra, and the National Philharmonic, to name but a few.
In 2015, Karin released her debut album, Melange, independently created, performed and produced with her husband, Mike Kelleher. Classical and jazz influences come together in Mike's charts to form a unique style that reflects their personal and musical life. An active educator, she enjoys working with young performers. She teaches privately, coaches master classes, and participates in school educational programs all over Maryland. This is Karin's third season with Chamber Dance Project.
Violist Jerome Gordon enjoys a diversified career as an orchestral, chamber, and studio musician. Prior to moving to Washington, D.C. Mr. Gordon lived in Los Angeles, CA where he performed regularly with the Los Angeles Philharmonic, Santa Barbara Symphony, and Pacific Symphony. He has performed and recorded with numerous artists and continues to work in Los Angeles recording soundtracks for television shows and films.
He was a fellow with the New World Symphony in Miami Beach, FL under the direction of Michael Tilson Thomas. During his tenure in New World he toured Europe performing in concert halls in France, Italy, and Spain.  In 2014 Mr. Gordon relocated to Washington DC and began playing with the National Philharmonic, Maryland Symphony, Alexandria Symphony Orchestra, and Baltimore Symphony Orchestra.
As a studio musician Mr. Gordon has recorded soundtracks for numerous TV shows, video games, and motion pictures, including such notable titles as Lost, Call of Duty, Star Trek Into Darkness, The Help, Green Book, Frozen 1 & 2, the new live action Lion King, and Minions 2.
On stage Mr. Gordon has performed and recorded with popular artists such as Earth, Wind & Fire, Usher, Jennifer Hudson, Carrie Underwood, Stevie Wonder, and Celine Dion, among others. He recently completed an 8-year run with Celine Dion as a violist in her production in Las Vegas, NV at The Colosseum at Caesars Palace. After the residency he served as the violist in her string quartet and has been touring with Ms. Dion since 2018. This is Jerome's third season with Chamber Dance Project.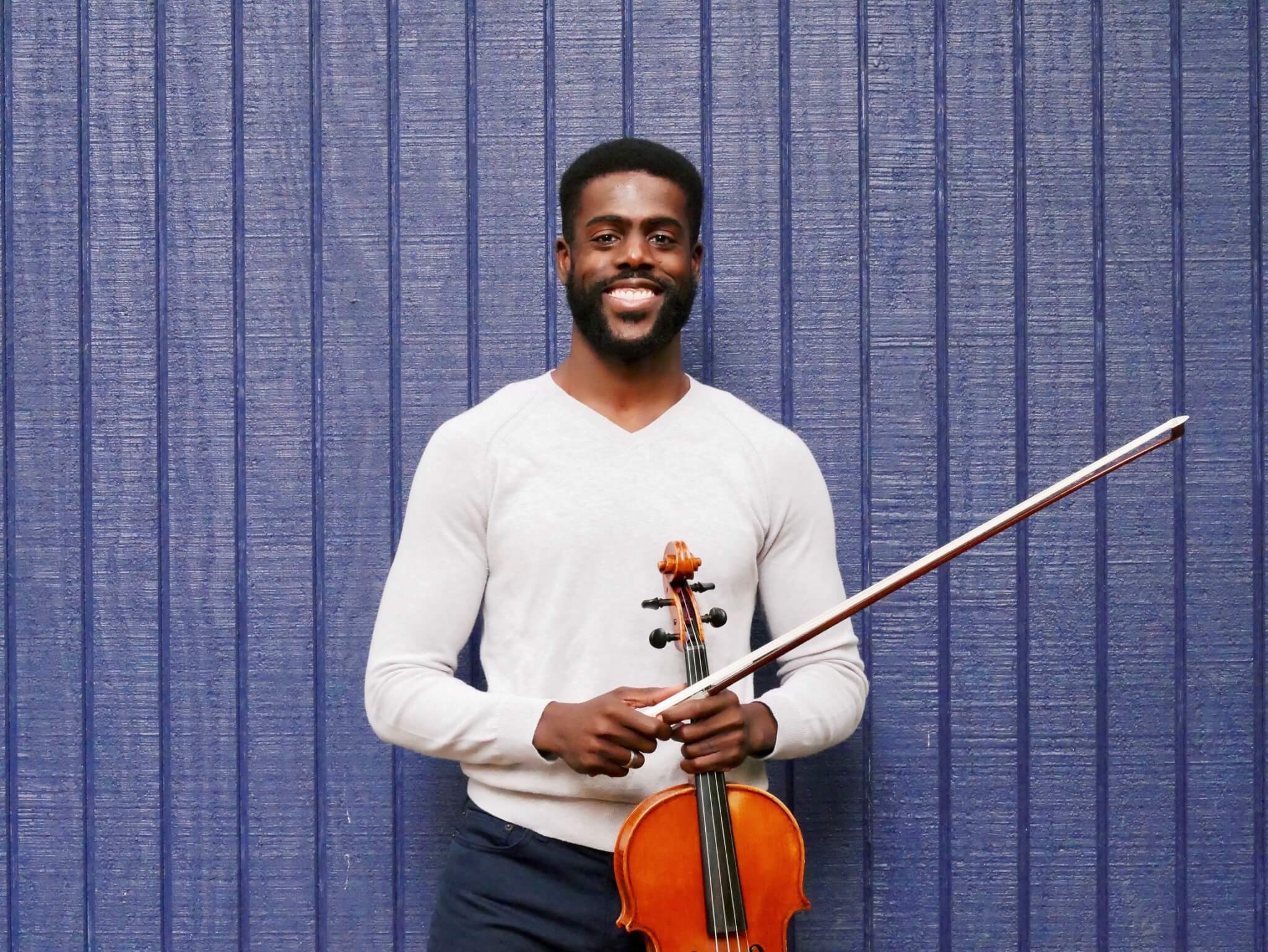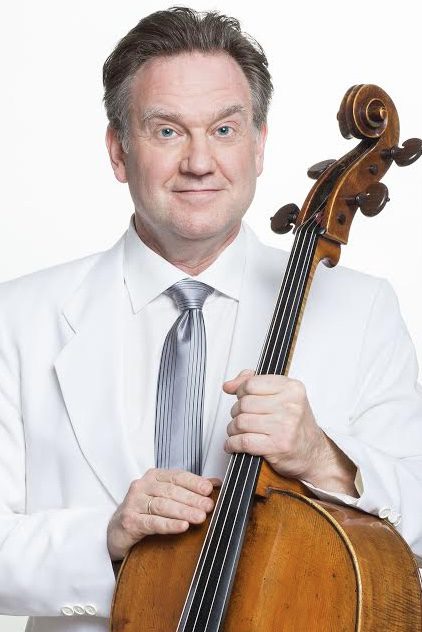 Steven Honigberg is a graduate of the Juilliard School of Music where he studied with Leonard Rose and Channing Robbins. Hired under the leadership of Mstislav Rostropovich, he is currently a member of the National Symphony Orchestra.
Mr. Honigberg has given recent recitals in Washington DC at the Dumbarton Concert Series, at the Phillips Collection, at the National Gallery of Art, and recitals in New York and throughout the United States. In Chicago (his home town) he has appeared on radio WFMT, at the Ravinia Festival, and as soloist with the Chicago Symphony Orchestra. In October 2014 Honigberg performed Andrzej Panufnik's Cello Concerto with conductor Marek Mos in Warsaw, Poland. He has appeared most recently in Washington, in 2015, as soloist with the National Symphony Orchestra in two performances at the Kennedy Center of Krzysztof Penderecki's Triple Cello Concerto with the NSO's Music Director Christoph Eschenbach. In 2009 Mr. Honigberg performed Erich Wolfgang Korngold's Cello Concerto with the NSO and won rave reviews for the 1988 world premiere of David Ott's Concerto for Two Cellos conducted by Mstislav Rostropovich and the National Symphony with repeat performances on two NSO United States tours.
Mr. Honigberg was the Director of the Chamber Music series at the U.S. Holocaust Memorial Museum in Washington DC for eight years (40 concerts) where he premiered a number of new works. He participated in extensive recordings of concerts held at the museum, including four recordings of music from the music series in addition to CDs of Korngold and Ernst Toch's chamber music. He has recorded extensively with the Potomac String Quartet, including the nine string quartets composed by American Quincy Porter and the eleven quartets of David Diamond which John von Rein, music critic for the Chicago Tribune, chose as one of his top 20 CDs for 2003. Honigberg has also recorded the complete works of Beethoven for cello and piano, and the complete work of Chopin for cello and piano with his mother, Carol Honigberg.
From 1990-2009, Honigberg was principal cellist, chamber music director of the Edgar M. Bronfman series in Sun Valley, Idaho where he was featured as soloist with the summer symphony.
In the summer of 2014 Mr. Honigberg was professor of cello in an International Course of study in Valbonne Sophia Antipolis, France. Mr. Honigberg is a member of Gerard Schwarz's All-Star Orchestra, which in August 2012 convened in New York City to record 8 one-hour programs for PBS television. He is also a member of the Smithsonian Chamber Society, PostClassical Ensemble and the Phillips Camerata. Honigberg has collaborated in chamber music with such well-known musicians as violinist Hilary Hahn, and pianists Jean-Yves Thibaudet, Jon Nakamatsu, James Tocco and Shai Wosner. As author, in 2010 his first book was published: Leonard Rose: America's Golden Age and Its First Cellist. Honigberg performs on a Lorenzo Storioni cello made in Cremona in 1789.