A Shot of Red: Young Professionals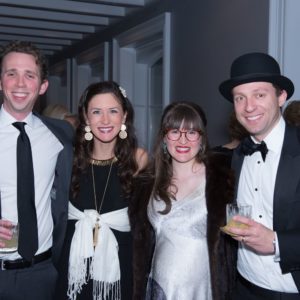 YOUNG PROFESSIONALS NIGHT
SATURDAY JUNE 23 at 7:00pm
We're excited to announce a special package for young professionals with center orchestra seats. Meet in the lobby for a backstage tour before the performances, with a photo on stage, a program signed by artists, and an intimate chat with the artists.
Join the dancers after the show for a drink…
ONLY 10 TICKETS AVAILABLE ($40)!
USE CODE YPCHANT AT CHECK OUT
A SHOT OF RED: THE BACKSTORY
When orchestras used to play for noble or ecclesiastical households in the early 18th century they wore a uniform – and that uniform was generally a black-tie tuxedo (in the 18th century, only men were permitted to play in an orchestra). So, when women began to play in professional orchestras from around the mid-20th century, their onstage uniform naturally followed suit. Since the 18th century, black and white attire has been considered smart and classic, and most importantly, it doesn't draw any 'unnecessary' attention to the musicians.
Many classical music lovers believe that there should be absolutely nothing to distract from the music, not even the performers themselves. With that in mind, if the audience only wants to concentrate on the sound created by the orchestra, and not the visual spectacle, why not hide the musicians out of sight completely? Why not put them in the band pit, like in any opera or musical theatre production?
---
Founder and Artistic Director of Chamber Dance Project, Diane Coburn Bruning could not disagree more. Diane founded the company on the principal that dance should be performed in collaboration not only with live musicians, but musicians on stage! They should not only be heard but seen – and also see the dancers they are performing with. Why relegate them to the pit where they notoriously say "they only hear the steps above them and see nothing?" And why so formal?
So Diane asks our musicians to all wear "downtown black with a shot of red." Downtown (meaning New York SoHo, slightly hipster) Black in deference to our music tradition and Red to be seen and in keeping with the company's red and black branding – classic but bold and forward-looking. Claudia wears an elegant red and black scarf (a gift from Diane), Derek wears red shoe laces, Chaerim has knockout red heels, and Sean a red pocket kerchief.
Thus, in starting the Young Professionals program of Chamber Dance Project a few years ago, we wanted it to be classic but bold, hipster yet traditional and DEFINITELY noticed….
Come join our Young Professionals in black with A Shot of Red – we even have a cocktail named after us.
Some material sourced from ClassicFM.